Ireland should join the European Union's Employers Sanctions Directive, which prevents employers from recruiting and abusing migrant workers, according to a report published this morning.
Essential Migrant Workers and Social Cohesion in Europe was compiled by the Foundation for Progressive European Studies and the Think Tank for Action for Social Change.
The organizations investigated the working and living conditions of migrants working in the agricultural and care sectors in Germany, Greece, Ireland and Spain over a two-year period.
The report outlines the impact of working conditions on migrants' daily lives, their ability to participate in community life, and the extent to which inappropriate legislation hinders rather than facilitates the integration of migrants.
The book "Key Migrant Workers and Social Cohesion in Europe" says that migrants working in agriculture and care in Germany, Greece, Ireland and Spain, are subjected to "multiple and intersecting forms of deprivation".
Research has found that migrant workers in Spain and Ireland live in overcrowded conditions and this "adds to already difficult conditions and low wages" in the agriculture and care sectors.
The research included interviews with immigrants about their experience of working and living conditions. access to the Services; Knowing social rights and opportunities to form social networks and participate with the local community and civil society.
Interviews with NGOs and trade unions addressed their work and engagement with migrant workers including insights into working and living conditions.
The impact of Covid-19 on health, employment and social participation opportunities for migrant care workers was also explored, including how they are shaped through support from NGOs, unions and public authorities.
Migrants are an important component of agriculture
The report says that immigrants have been an important long-term component of Ireland's agricultural workforce, and adds that in the desire to lower labor costs, the sector has "exploited workers" from Romania, Bulgaria and Brazil for decades.
While he notes that statistical data on migrant workers in the agricultural sector is difficult to obtain, the Irish sector broadly employs 164,400 people, of whom 60% are immigrants.
Central Africa, Brazil, the Balkans, Poland, Ukraine and India are the largest points of origin for migrants entering Ireland. Horticultural companies are increasingly importing labor from the European Economic Arena (EEA) and beyond.
To gain insight into working conditions, a nongovernmental organization that provides free and accessible social services to migrant workers, the Gort Resource Center described to researchers how workers are hired frequently on the day they need it, without a contract.
The center added that migrant workers are often transported to their workplaces without prior knowledge of their location, work excessively long hours and are paid in cash at the end of the day, which is equivalent to less than the minimum wage.
The report says these jobs are a survival last resort for immigrants, with few employment options and those without access to a PPS number or document status.
"This vulnerability makes them vulnerable to abuse and mistreatment by farmers and their employers," she says.
It states that migrant workers employed in the Irish meatpacking industry "face abusive and exploitative working conditions".
According to the report, they are subjected to "dirty, difficult and dangerous work" and employers practice "poor safety and health protocols" and display an "arrogant disregard" for workers.
Growing care needs
The four countries examined in "Key Migrant Workers and Social Cohesion in Europe" all have elderly populations with increasing care needs.
While Ireland currently has the smallest population of the four, the old-age dependency ratio is expected to grow from 22 to 42 between 2020 and 2050.
In other words, the ratio of Irish aged 65 and over to those aged 15-64 would nearly double.
The report says that much of Ireland's public care services operate through private providers, "which, by some accounts, provide the state with more flexibility in terms of controlling the costs of providing care".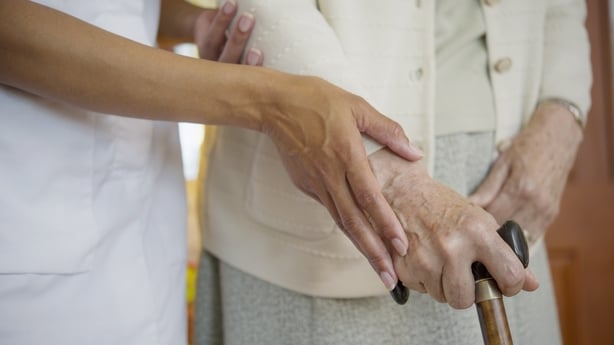 She says the high cost of private care and long waiting times for limited publicly funded home care have contributed to "the increased demand for affordable private home care" and notes that 34.5% of care workers in Ireland work in home care.
"This number will likely underestimate the number of informal caregivers, many of whom are immigrants who are not formally 'employed' as caregivers," she says.
An estimated 22% of caregivers working in homes or in residential care facilities were born outside Ireland.
She says that immigrant women work in elderly care because of the ease of obtaining a healthcare assistant qualification (QQI Level 5) and finding jobs through social networks.
Immigrants, most of whom are women, she says work in both residential and home care — although she admits, there is little data to confirm this.
The report notes that until recently, the Irish government allowed "only very limited employment of trained care workers from outside the European Economic Area to meet the growing labor needs of the care sector", and as a result, Irish families depend on immigrant services. Home care workers employed on an informal basis.
It states that, as with informal care, working arrangements, usually for "anti-social" hours, can be difficult for migrant workers, who are reluctant to file a complaint because they fear losing their job.
Care workers have been one of the most vulnerable segments of the workforce during the Covid-19 pandemic, with frequency and a high level of contact with infected residents in hospitals and nursing homes, according to the report.
He explains how community hospitals, nursing homes, residential institutions and childcare facilities in Ireland have some of the highest rates of Covid-19 outbreaks, including 21 outbreaks of infection in direct support centres.
The negative effect of poor representation
The report highlights the negative impact of poor union representation on access to sick pay and adequate oversight of health and safety.
However, he also says that shared interests and cooperation between trade unions and civil society organizations representing immigrant communities and migrant workers have provided increased opportunities for "social cohesion and social solidarity".
The report adds that low-paid and vulnerable workers have been placed within an existing network of advocacy and representation with policy makers and organizations such as the Center for Migrant Rights in Ireland who express their concerns to the government.
The report recommends that Ireland accede to the Employers' Directive, which prohibits employers from hiring and abusing migrant workers.
The aim of the directive is to encourage member states to grant temporary residence permits to undocumented workers who cooperate with governments in holding abusive employers to account, and to ensure that governments inform employers of their obligation to pay "due wages, taxes and social security contributions to immigrant workers in an irregular situation."
Ireland's second recommendation is that the national anti-racism action plan and implementation process include discrimination on the basis of employment.
She says this is especially important for employees who are vulnerable to exploitation and racism due to their visa status and the nature of their work.
She also says that Ireland needs to keep pushing for the implementation and evaluation of integration strategies at the local level.